FFO Switch Monitor is a modified version of FFXI Switch Monitor.
This build add support for FFXIV : directx 9 (x86) and 11 (x64).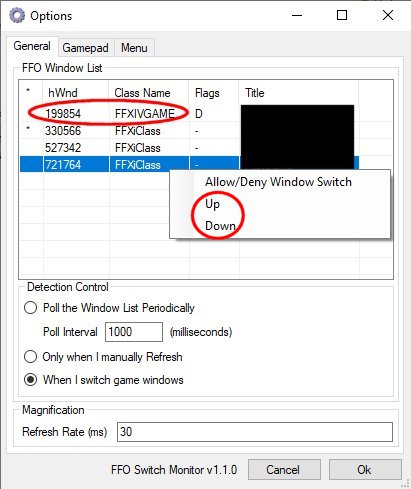 For documentation, original post is here : http://legacy.window...test-v110-3409/
There are a lot of functionnalities i don't use.
Gamepad support in FFXI, even with the last update from SE, is very buggy.
If you have multiple instance of FFXI, you only have to unselect "gamepad enabled when client is inactive" in FFXIV
If you have only 1 instance of FFXI, to prevent FFXI and FFXIV to share the gamepad, you must :
- launch FFXI and login
- RELAUNCH (yes) and LOGIN a 2nd time, be sure to leave the first window open
- then kill the first window
EDIT : doesn't work if you play directx 11 version of FFXIV, which is a x64 process
i think it's because this application (gamepad part) is build with managed directx, which is only x86
maybe replacing it with rawinput is possible